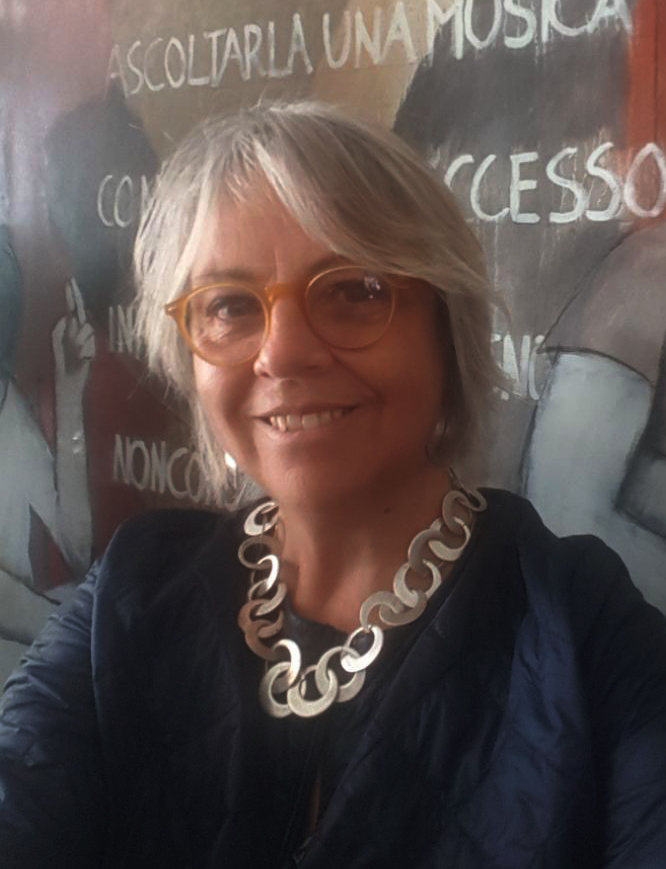 Rossana Borzelli
"…because the feminine has the keys to regenerate life and harmony even in these times of dissolution."
---
Biography
Rossana Borzelli was born in Rome in 1956 and trained artistically by attending the studio of the painter Leonardo Aprea in Naples, and the studio of Giovanni Crisostomo in Rome.
His was a constant experimentation of technique and color. While the content has always been feminine.
"In Borzelli's art it is the feminine that testifies to the human story with dramatic intensity: where the masculine imposes the step to reality, the feminine is the guardian of the soul and reveals what takes place behind the curtain of events. Thus are born these portraits of women caught in everyday gestures or in unusual, almost theatrical poses, all suspended in time, capable of capturing our gaze and whispering what has no place in an ever faster and more belligerent world.
The divisions, the contrasts that the world imposes and exasperates in our age, are somehow represented in the very duality of the technique, which implicitly recalls the split, although the figure acquires a fascinating and mysterious unity; and a beauty emanates from them that communicates to those who look at them that all is not lost, because the feminine has the keys to regenerate life and harmony even in times of dissolution. "
He currently lives and works in Rome.
Exhibitions
1994 – 1991
"Art Exhibition"  ITALY
1995
"Art '95 Gallery Group Exhibition NEW YORK
1998
"The silence of the gesture" Personal Exhibition GORDES FRANCE
1999
Group Exhibition CANNES WIN THE FIRST PRIZE - FRANCE
2000
ART Exhibition – ITALY
2001
"Kairos" Theater Scenography  WIN THE FIRST PRIZE Bracciano - ROME
2004
One Personal Exhibition Mondadori Gallery – ROME
"Proof of love" Teatro Scenography WIN THE FIRST PRIZE  Bracciano- ROME
"Group Exhibition - FINLAND
2006
"Anime on stage" Zina D'Innella Gallery - BARI
Italy Group Exhibition Little Van Gogh Gallery - BRUSSELS BELGIUM
"Group Exhibition" FINLAND
2008
WIN THE FIRST PRIZE "Group Exibition Opera Gallery" Budapest HUNGARY
"Personal Exhibition" International House of Women - ROME
2009
"Show her own work" in Esper Russo's film "Soltanto vivere" – ROME
"Group Show Italian Norwegian Institute" Tolfa - ITALY
"Group Exhibition" Marziart Galerie Hamburg " Hamburg - GERMANY
2010
Personal Exhibition "Fondaco Gallery" – ROME
2011
ARTEXPOAREZZO – AREZZO
2012
MACRO AAFRome – ROME
"By thread and by sign" - Viterbo   ITALY
2013
"Al Feminine" Tuscania ITALY
2014
"The doors of Rossana Borzelli" FONDACO Gallery – ROME
2015
"Women in Art" Palazzo ALTIERI Oriolo Romano – ROME
2016
SPOLETO ART FESTIVAL – SPOLETO
Personal Exhibition "BabetteArt" -  ROME
Personal Exhibition Gallery "Francesca Romana Marino" - ROME
2017
Gallery "Paper Waves" Trevignano - ROME
Personal Exhibition "Babette Art" - ROME
ART FAIR AMSTERDAM - AMSTERDAM
2018
Personal Exhibition "Silhouettes" VITERBO
Group Exhibition "Unknown land" MOSCOW
2020
"DOORS" Gallery "Orizzonti Arte Contemporanea" OSTUNI
2021
"35×35" Capelouzos Family Art Museum – ATHENS
Personal Exhibition "Faces" Babette Art - ROME
"Portraits" Orizzonti Contemporary Art Gallery - OSTUNI
2022
ART FAIR PARIS – PARIS
"VanGogh Art Gallery" - MADRID
SWISSARTEXPO 'ZURICH
"Thomson Gallery" ZURICH