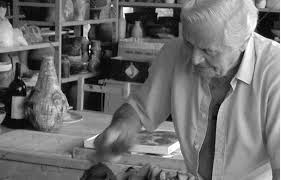 ---
Biography
Marcello Fantoni, sculptor, medalist and ceramist, was born in Florence in 1915 and studied in his city at the Porta Romana Art Institute, a pupil of, among others, Libero Andreotti, Bruno Innocenti, Gianni Vagnetti and Carlo Guerrini.
After the years of training he worked, starting from 1934, in various laboratories and ceramic factories including the "Cantagalli" in Florence, he assumed the position of artistic director of a small ceramic factory in Perugia and in 1936 he opened a laboratory on his own known as "Fantoni Ceramiche", in via Luigi Lanzi 2 in Florence, where it produces both standard furnishing ceramics and sculpture and artistic ceramics.
In 1937 he presented some ceramics of his production at the VII National Handicraft Exhibition in Florence, attracting the attention of the public for his rustic-style works decorated with African and marine landscapes animated by stylized figures painted in enamel.
Subsequently he opened a collaboration with the "CIMA" and between the end of the Thirties and the early Forties he created models for the Perugian manufacture "La Salamandra".
The war years saw him as a partisan in the mountains and in the early post-war years he found employment at the "Maioliche Deruta" factory.
In the fifties he restarted his own business in the premises at number 45 in via Lanzi, in Florence where he began to devote himself to the creation of large sculptures.
A great experimenter of matter, he is an interpreter of the various artistic currents from Twentieth Centuryism to Primitivism, from Cubism to Abstractionism up to the Informal and Minimalism of his latest works.
Starting in 1970, in his studio, he founded the International School of Ceramic Art and dedicated himself to teaching and experimenting with high temperature firing.
In 2000 Florence dedicated a large anthological exhibition to him entitled "Ceramics as Art, Marcello Fantoni ceramist and sculptor" set up in the Salone delle Regie Poste and in 2005 the Archaeological Museum of Fiesole dedicated an important personal exhibition to him entitled "Marcello Fantoni, a beautiful shape with a nice color".
Marcello Fantoni died in Florence in 2011