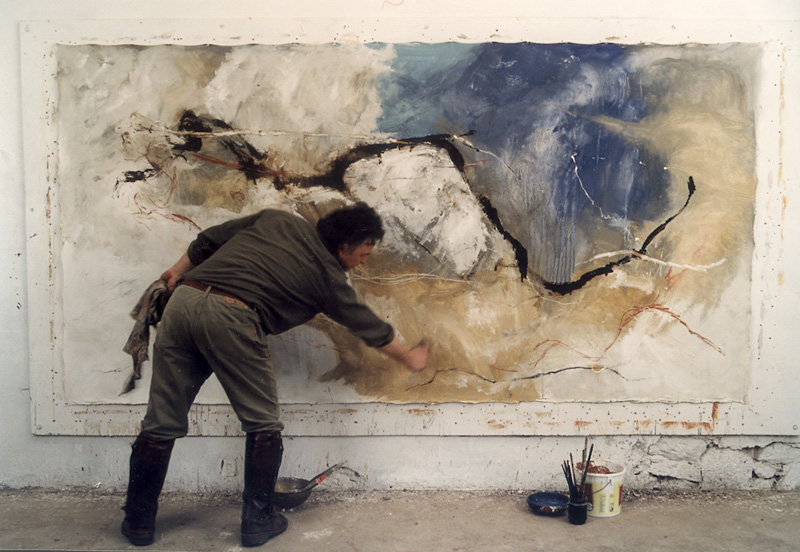 Charles Romiti
"And arriving in a small valley, in a very wild cave, and scraping the cave with a hoe, I saw veins of various types of colours: that is, ocher, dark and light sinopia, …"
Cennino Cennini
"The book of the art or treatise on painting" – XIV century
---
Biography
Carlo Romiti was born in 1953 in Castelfiorentino (Fi), he graduated from the Academy of Fine Arts in Florence.
Since 1987 he has directed the Theater Laboratory of the Visual Arts Center of the Municipality of Certaldo (Fi).
He collaborated with a research group on expressive activities of the Faculty of Education of the University of Florence for the creation of educational texts.
He holds courses on pictorial techniques for the Didactic Section of the Uffizi and at the Museum of Prehistory in Florence.
Romiti lives in the countryside between San Gimignano and Volterra, where the local "land" provides the material for his extraordinary contemporary works. The painting begins at the very moment in which he scrapes an embankment and, with his hand, collects the first handfuls of earth. Sometimes it is the earth itself, or a different shade of it, that suggests the work, in an alternation of priorities between subject and colour. The raw earth, well dried, ground by hand in stone mortars, sieved and sometimes ground again, is mixed with water, egg or various glues, but also with linseed oil depending on the supports used. The earth thus treated does not need final varnishes since it has and must maintain its own luminosity.
And it is always in the primordial heart of Tuscan nature that the artist also finds the subjects to portray: lands, seascapes, woods, and their animal inhabitants. Romiti escapes civilization to enter a realm that precedes it and instills it: the homogeneous one of nature, in which man is animal, the animal mixes with the earth, the earth fades into vegetation and the vegetation immerses itself in the 'water, in an indistinct whole that speaks of our origins.
Personal Exhibitions
2016 – "Humus", mural in the municipal gym, Gambassi Terme
2014 – "Boars", Banditry Museum and Church of Sant'Egidio, Cellere (VT)
2013 – "Miniatures", Riccardiana Library, Florence
2013 – "Cavalli", 81st Piazza di Siena Horse Show, Casa FISE, Rome
2013 – "Novelling pleasure-suggestions from the Decameron", stories and installation with Enzo Fileno Carabba, Palazzo Pretorio, Certaldo, (Fi)
2012 – "Painting and Music for IHP", Church of the Barnabiti, via Sant'Agostino, Florence
2012 – "Ippocrene", Horse Center Foundation – La Venaria Reale – La Mandria Park, Druento (To)
2011 – "Of Earth and Air", La Rocca di Staggia, Staggia Senese. Siena
2010 – "Ippios", Marino Marini Museum, Florence
2009 – "Of the land and the sea", Cantiere i Navicelli, Pisa
2007 – "Angelica and Baiardo", Palazzo Pretorio, Municipality of Certaldo (Fi) 2007 – "Angelica and Baiardo in the Rocca di Scandiano", Rocca dei Boiardo, Municipality of Scandiano (RE)
2006 – "Tuscan lands", Galerie Signum Winfried Heid, Heidelberg, Germany
2006 – "Beasts", Spedale di S. Antonio, Lastra a Signa, Florence
2006 – Artisan Works Gallery, Rochester, New York, USA
2005 – "The Earth and the Horses", Kastaev Museum, Almaty, Kazakhstan
2005 – "Beyond the obstacle", Municipality of Predazzo (Tn)
2004 – "Transhumance Festival" Villetta Barrea, Abruzzo National Park
2003 – San Rossore Racecourse, Pisa
2003 – "The lands and the horses of Carlo Romiti", within the conference -Paladini di carta. The figurative cavalry-, Riccardiana Library and Department of Italian Studies of the University of Florence
2003 – Galerie Orfèo, Luxembourg
2002 – Villa Strube, Sollingen, Germany
2002 – "The land of Carlo Romiti", Interiors by Inhofer, Senden/Iller, Germany
2002 – Municipality of Figline Valdarno, Semmelweis Literary Club
2001 – Castle of Carini (Pa)
2001 – "Terre", La Croix Valmer, France
2000 – Tornabuoni Gallery, Pietrasanta (Lu)
2000 – During the Bancarella Prize, Pontremoli (Ms)
2000 – Chateau Erpeldange, Luxembourg
1999 – Galerie Orfèo, Luxembourg
1999 – Hospital of the Pilgrims, Municipality of Barberino Val d'Elsa (Fi)
1999 – Badia a Passignano, Tavarnelle (Florence)
1998 – Palazzo dei Priori and Palazzo Pretorio, Municipality of Volterra (Pi)
1998 – "Lands and beasts", La Corte Arte Contemporanea Gallery, Florence
1997 – Galerie La Première, Genève
1996 – "Red earth and ocres", Fèrstliche Muhle, Kulturverein Sassenberg
1995 - "Selected lands", Palazzo Patrizi, Municipality of Siena
1994 – Vereins und Westbank, Hanover
1994 – Italian Academy, London
1994 – "Terre e marine", Bottini dell'olio, Livorno
1993 – Falchi Gallery, Levico Terme (Tn)
1993 – Castle of Capalbio (Gr)
1992 – Café Auerbach, Berlin
1992 – "Geocromie", Galleria L'oro di Noma, Milan
1992 – "Intra nos animalia", Galleria Mancini, San Gimignano (Si)
1991 – M. Messeguè Centre, Tirrenia (Pi)
1991 – "l'Annunciazione", cloister of the church of SS. Jacopo and Filippo, Certaldo
1991 – Maison Visinand, Montreaux
1990 - Palazzo dei Priori, Volterra (Pi)
1989 – Villa Pietralta, San Gimignano (Si)
1986 – Palazzo Pretorio, Certaldo (Florence)
1984 - Palazzo Ghibellino Gallery, Empoli (Fi)
1984 - Piazzetta Gallery of the Madonna, San Gimignano (Si)
1984 - Sigma Gallery, Orbetello (Gr)
1980 – Hall of the Baths, Gambassi Terme (Florence)
1979 - Orlandi Gallery, Prato