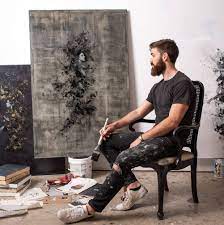 Aiden Kringen
A kaleidoscopic fantasy – crystalline planes floating in space, nested together like immaculate puzzle pieces – abstract nebulae, human figures and faces enveloped in swirling fields or particles of energy – these are among the images evoked by artist Aiden Kringen's hauntingly enigmatic paintings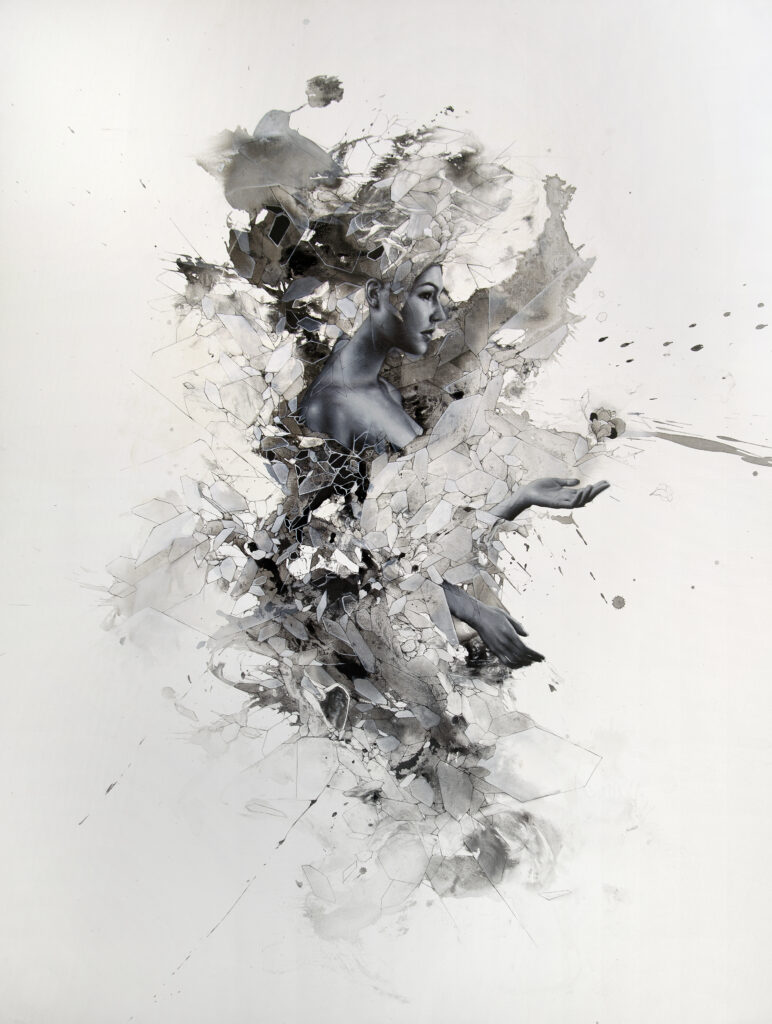 Rituals 8
Oil and acrylic on canvas
Dimensions:
Width 90cm
Height 120cm
Year: 2022
Code: AK01
Ask for the price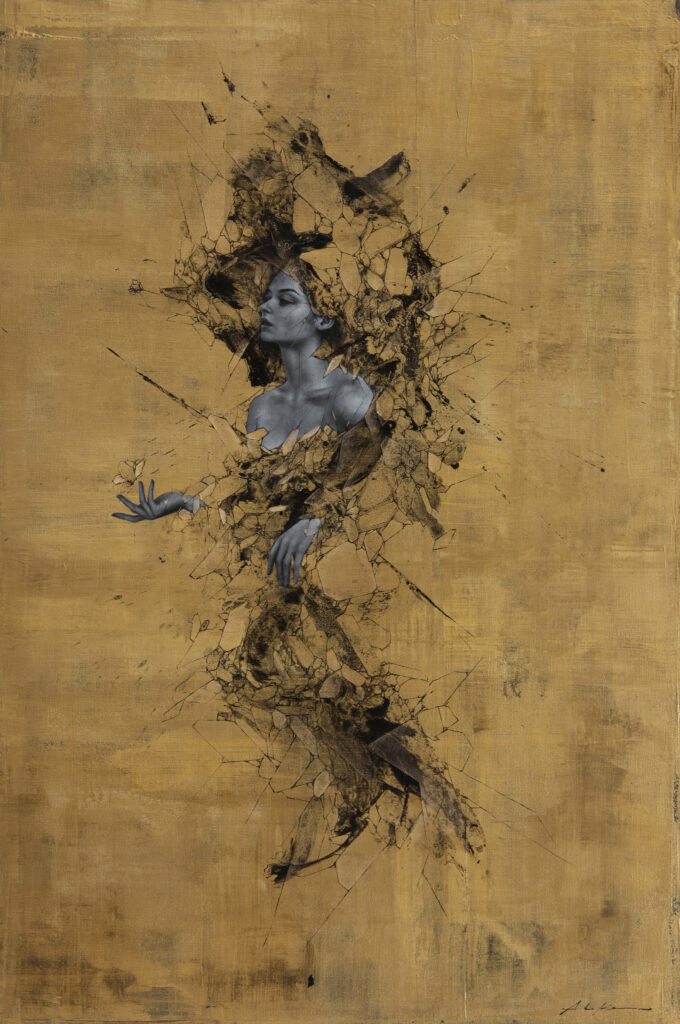 Opulence 5
Oil and acrylic on canvas
Dimensions:
Width 60cm
Height 90cm
Year: 2022
Code: AK02
Ask for the price
---
Biography
Born in Los Angeles in 1992, Kringen has lived variously in the American West and Mexico. He has always had a keen eye for detail, rooted in a gift for looking closely at the human experience. "I've always been interested in observing people," he recalls, "and the details of how we interact with each other." He put this natural ability to good use when he started working on illustration and graphic design projects while in high school. From his mother, an artist and graphic designer, he learned the fundamentals of typesetting and typography, the nuances of positive and negative space and the relationships between them.
Kringen started painting at 14. Then as now, drawing was central to his approach. By honing his natural talent for figuration through long and in-depth study, he has arrived at an understanding of the figure that is both intuitive and virtuosic. On acrylic and mixed media on canvas, Kringen lays the linework with a Micron pen into increasingly complex compositions, often adding gloss media to bring out the reflectivity and prismatic character of the layers. In some pieces he incorporates gold and silver leaf to accentuate the drama and lushness, recalling the mosaic-like work of Gustav Klimt, who, along with fellow Austrian Expressionist Egon Schiele, is among Kringen's most important influences .
It was in 2011 that he began to paint in the style he is now most associated with: a technique that blends drawing and paint, line and brushstroke, with fragmented forms underlying the images. In particular, this is not simply a stylistic conceit, but rather a way of perceiving reality. The fragmented line drawing, the grids of planes that he uses as lenses to bring these features into focus, is sui generis but never deceptive; it is above all a tool for defining and refining facial features, adding depth and definition.
In his abstract work he uses similar techniques, reducing the fabric of perception itself to the essentials of shape, color and texture.
Personal exhibitions
2022
Crystallines, Casterline Goodman Gallery, Aspen, CO
2021
ImprintAbend Gallery, Denver, CO
2021
Immersion, ERA Contemporary, Philadelphia
2016   
 anthropos, 1801 NW Upshur, Portland, OR
2015
Divergence, The Christopher Hill Gallery, St. Helena, CA
2015
perception, The Christopher Hill Gallery, St. Helena, CA
2013     
emergency, Pop-Up Exhibition, Healdsburg, CA
Collective exhibitions
2022
THE ART SHOWAbend Gallery, Los Angeles, CA
2021
THE ART SHOWAbend Gallery, Los Angeles, CA
2021
Disrupted Realism, Principle Gallery, Alexandria, VA
2020
5 x 5 Mini ShowsAbend Gallery, Denver, CO
2019
Aiden Kringen / James Kroner, Christopher Hill Gallery, St. Helena, CA
2019
Disrupted RealismJohn Seed / Stanek Gallery, Philadelphia, PA
2019
Sonoma Modern Contemporary, Sonoma Valley Museum, Sonoma, CA
2019
4th Anniversary Exhibition, Adelman Fine Art, San Diego, CA
2019
42nd Annual SF Decorator Showcase, Scott Roberts Design, SF, CA
2019 T
EXTURE Exhibit, Adelman Fine Art, San Diego, CA
2018
Peter Samuels & Aiden Kringen, The Academy SF, CA
2018
Flora + Fauna, Adelman Fine Art, San Diego, CA
2017
Art You Enjoy, Adelman Fine Art, San Diego, CA
2017
Elements, Metal, Transformation, The Christopher Hill Gallery, St. Helena, CA
2017
SRAC extension, Roman D'Argenzio, CS Collective, CA